Children in need 2005:
Edit
This children in need special is set after christopher eccleston's regeneration as the ninth doctor we get an insight to what David tennant's doctor is like and how cool he is going to be I think it is one of the best children in needs special.
It Also has a little spark that I loved David tennants doctor is silly,funny and one to remember I think this children in need special is great.
Children in need 2007:
Edit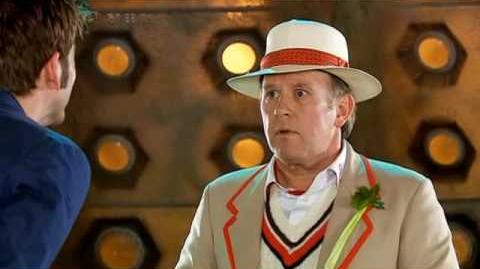 Time crash bringing back the fifth doctor Peter Davision this is so good to bring back an old doctor just before the titanic crashes throw the TARDIS that is one of the best new who ideas ever!!
To know that the tenths doctor (David tennant) loved the fifth doctor (Peter Davision) is a great idea make sure you watch this children in need special because It is one of the best mini episodes EVER!!!!
Children in need 2008:
Edit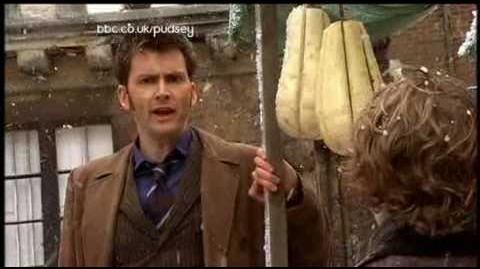 This isn't a mini episode it is just a teaser for the special the next doctor the people of Doctor who could have done something great like 2007's small episode. But here Children in need feels used why didn't you do another episode where the current doctor meets a past doctor again that was a great idea and I think it would have worked again but still they chose to do a small 2 minute teaser not a smart idea!!
Children in need 2010:
Edit
Okay this time the children in need special was GREAT yes inviting 2 young sick kids to have dinner with the doctor and Amy was a sweet idea and The kids got to see a teaser for the christmas special yes!!!
The christmas special was good so the teaser was good I do think that this year children in need was good and sweet one of the best children in need specials ever great job!!
Children in need 2011:
Edit
This year the children in need special is for Matt smiths clothes well um I mean they put up an auction online for Matt smiths costume and the money they raise will go to children in need.
This year was a little weird but still fun !!!
Children in need 2012:
Edit
Good one this year funny bit at the start of the video and how they call them MINISODES is amusing and funny and when the doctor says she will never be replaced in his heart (Amy) you see Clara saying HI and saying that Karen gillan won't be watching because she is in LA that bit is funny,
The special is funny and good so over all this years children in need special will not disopoint people like 2008's did but thats going back a little bit.
Children in need 2013:
Edit
Not much to say about 2013 it's a preview of Day of the doctor it's ok not as good as 2012 I think the creators of Doctor who should have made a mini episode not this it is what they did in 2008.
Still Day of the doctor is good and the trailer is good as well and even though not many people read my wiki if your reading this please donate to children in need it is a good thing to do.
CHILDREN IN NEED THE FUTURE:
Edit
We hope that many more minisodes come though children in need make sure that you donate THANKS The Eleventh Doctor is cool (talk) 08:32, July 7, 2014 (UTC)